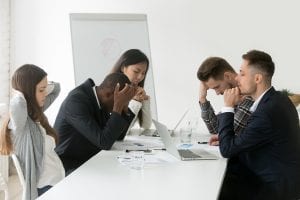 A corporate crisis can be quite disruptive for your team. Being able to respond to a crisis and continue to lead your team is critical to your success. HR360 has a regular service called HR over coffee. One of the recent telecasts was about how to respond to a crisis in the workplace.
 We make this service available to our business associates at no charge. We would like to make it available to you, at no charge. This is a $500 value. If you would like to have access to HR360, just send an email to info@randisiandassociates.com with HR360 in the subject line.
 Managing your team through a corporate crisis is one of the biggest career challenge you will face.
Sudden change, uncertainty and anxiety about the future takes a toll on productivity and morale.
 It is your job as a manager to keep this from happening. Keeping your team motivated through tough times is no easy task.
 Strong leadership, good communication, and empathy can make the difference. You must keep them motivated.
 Strategies
 Lead by example,
·         you must remain calm and upbeat,
·         encourage to do their best work,
·         stick to regular schedule of meetings.
Communicate
·         Explain circumstances to best of your knowledge,
·         Be honest and forthright,
·         Address issues as they arrive,  
·         Update your team regularly as new developments occur.
Be a good listener. Talking is silver but listening is gold.
·         Employees need to feel they are being heard especially in times of crisis. Try to understand their perspective,
·         Maintain an open door policy that lets your team know you are approachable,
·         Consider town hall meetings.
Ask Employees for help with crisis. The collaboration will engage employees and may yield innovative ideas that haven't been previously considered.
·         Group brain-storming
 

This will engage employees

 

May lead to solutions
·         Acknowledge Hard Work
Public recognition to employees who go above and beyond to help with the crisis.

Financial rewards

Token gifts can be a powerful motivator.
Setbacks and corporate crisis are unpredictable and not pleasant. These strategies will help your organization move forward in difficult times