QuickApp™ and QuickApp™ Pro simplifying the screening process!
QuickApp enables any organization to use an online application system and is available at no additional charge.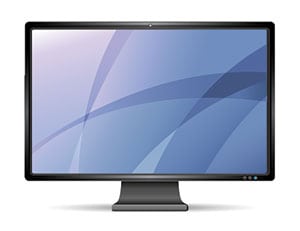 AN OPTION – Within our application, a manager can choose to process a background report the traditional way by having the applicant sign a disclosure and consent form, filing that form, providing the applicant a summary of their rights under the FCRA, then deciphering poor handwriting and cross referencing the application to then do the data entry for the background check.
 OTHER OPTIONS
QuickApp™
Our user-friendly Quick App allows a hiring manager to enter the applicant's name and email address.  That's it. The manager just gets an email when the report is complete.
A customized email invitation is sent to the applicant explaining the whole screening process.  The applicant then clicks a link that enables him/her to electronically sign a 50 state compliant disclosure and Authorization Form consenting to the screening.  A summary of the applicants rights under the FCRA is provided to the applicant and best of all, the applicant enters all of their own information relevant to the screening report you are requesting on that candidate.
QuickApp™ Pro
QuickApp™ Pro uses a static link that allows clients to provide application access to anyone with an Internet connection. The application link can be embedded to any website or preferred internet listing service. A background check application may be submitted at any time of the day, and there is no link expiration or other time restraint.
 In addition, QuickApp™ Pro's responsive design optimizes itself for use on multiple devices and browsers.
 With QuickApp and QuickApp™ Pro you can:
Avoid data entry errors, liabilities, and costs by allowing the applicant to complete an online application, complete with disclosure, authorization, and release forms, and an electronic signature.
Have access to the online, customizable application via individual email invitations, self-service online kiosks, or through XML integrations with third-party applicant tracking software.
Avoid compliance issues by removing the collection of sensitive personal identifiers, including DOB, to the applicant during the online application process.
Have full credit card integration which provides the option to require applicants or volunteers to pay for their own screening services at the time of order entry.
Seamlessly upload the applicant's online application in real time, ready for processing.
Tutorial of Web Tool and QuickApp
Streaming QuickApp Video Demonstrating Its Ease and Flexibility
Download QuickApp Video Demonstrating Its Ease and Flexibility
Once Tutorial Is Open, Close Boxes in Right-Hand Corner For Better View