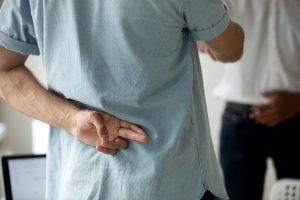 Some in the media who have reported on this court case and have, in our opinion, avoided the important fact that the plaintiff was found to have made a falsification of company documents.
This article reports that a unanimous three-judge panel of the court ruled May 3 that while the Fair Credit Reporting Act (FCRA) does give job applicants the right to dispute the accuracy of background checks, it does not confer a right to argue accurately reported convictions before losing a job offer. This is not entirely accurate.
The actual court documents are here Court Rules Job Applicants Don't Have Right to Explain Accurate Background Checks Under FCRA
We believe there are two actions that took place in this court action that bear emphasis.
First, as presented on page 2 of the court filing, the plaintiff responded "no" to a question asking whether she had ever been convicted of a felony. A background investigation revealed that the plaintiff was convicted of murder and armed robbery in 1996, was sentenced to 25 years in prison, and released after serving 12 years. Based on this information, her job offer was rescinded before she had a chance to explain the results.
Given that this "no" answer was not true, and the plaintiff knew it was not true, the plaintiff falsified a company document.
This bears asking of your organization. Obviously, it is not acceptable to ask about prior criminal convictions on the initial application document. However, it is important to ask and document their answer on subsequent company documents involved in the hiring process. If your organization does not document their answer, how can you prove that they falsified your company documents?
Second, the employer is required by the Fair Credit Reporting Act to give an individual a Pre-Adverse Action Letter when using information in a consumer report. Any report that contains results of a criminal conviction investigation is considered a consumer report. This Pre-Adverse Action letter should contain a statement that the prospective employer is using information in the consumer report to make an adverse hiring decision.
Toward the end of the author's article, mention is made of complying with notice requirements. "Because lawmakers didn't want employers making hiring decisions based on inaccurate information, FCRA requires employers to provide job applicants and employees with notice that they intend to make a decision based on a background report before making the decision, a copy of the report, a description of their FCRA rights, and a reasonable opportunity to respond to any information that may be incorrect."
James P. Randisi, President of Randisi & Associates, Inc., has since 1999 been helping employers protect their clients, workforce and reputation through implementation of employment screening and drug testing programs. This post does not constitute legal advice. Randisi & Associates, Inc. is not a law firm. Always contact competent employment legal counsel. To learn more about avoiding lax screening procedures, Mr. Randisi can be contacted by phone at 410.494.0232 or Email: info@randisiandassociates.com or the website at randisiandassociates.com