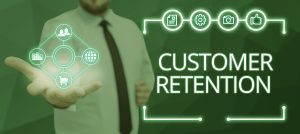 As discussed in this recent Forbes article,  businesses need to focus on customer retention. Many companies focus solely on acquiring new customers, but maintaining the ones you already have should be a top priority. Sending out customer retention e-mails is a great way to do this.
Our team is pleased to share a few of their suggestions for writing successful customer retention emails. However, we recommend reading the complete article to access all 8 tips and gain a deeper understanding of this topic.
Offer A Sneak Peek of Upcoming Product Features
One excellent way to keep customers engaged is to give them a sneak peek of up-and-coming products. You will achieve a higher level of loyalty from your customers when they feel excited about discovering new items.
Take an Honest, Personal Approach
Customers rarely connect with bland, impersonal messaging. Develop an emotional connection with your customers and get on their level by speaking in an honest, relatable way.
Show Them How They Can Get More Value
 Your job is to show customers what makes your products, services, and memberships valuable. If you want to improve your customer retention strategy, offer links to informative articles and how-to videos. Consider targeting customers who are inactive or undecided about returning. Encourage them to ask questions and learn more.
Leverage Customer Heat Maps
 How often are customers interacting with your products? In what ways do customers seek out and find your products? Make the most of all the information you have at your disposal, such as reviews on Yelp or Google or social media engagement data.
Continue reading the article here https://www.forbes.com/sites/theyec/2022/09/20/eight-tried-and-true-tips-for-creating-effective-customer-retention-emails/?sh=6350a8602c28!
James P. Randisi, President of Randisi & Associates, Inc., has since 1999 been helping employers protect their clients, workforce and reputation through implementation of employment screening and drug testing programs. This post does not constitute legal advice. Randisi & Associates, Inc. is not a law firm. Always contact competent employment legal counsel. To learn more about customer retention, Mr. Randisi can be contacted by phone at 410.494.0232 or Email: info@randisiandassociates.com or the website at randisiandassociates.com