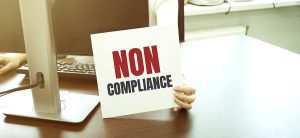 Currently, a logistics company faces a potential $5 million class action lawsuit due to FCRA non-compliance. What are the chances of a similar scenario harming your business? Are you putting yourself at risk? To maintain their reputation and continue to provide services, companies should do everything in their power to avoid lawsuits like this. Attempting to evade decrees or regulations like the Fair Credit Reporting Act (FCRA) can result in serious and permanent consequences.
Under the Fair Credit Reporting Act (FCRA) Section 15 U.S.C. § 1681b(b)(2)(A)(i)(ii), a background check report may not be procured unless (i) a "clear and conspicuous disclosure has been made in writing to the consumer" in a document that "consists solely of the disclosure" and (ii) the "consumer has authorized in writing" the procurement of the report.
In the Complaint, nunley-v-cardinal-logistics-management-corporation-et-al the plaintiff alleges that the defendant violated the Fair Credit Reporting Act among other California consumer reporting laws. Plaintiff, through the lawsuit, seeks to certify a putative class of all current former and prospective employees of the Defendant for a period beginning five years preceding the Plaintiff filing. In the filing, it is alleged that the amount in controversy exceeds $5 Million dollars.
Plaintiff alleges on page 8 of the filing that the Defendant failed to comply with the requirements under the FCRA because they among other things included superfluous information within the disclosure, buried the disclosure with small font, and failed to obtain proper authorization before procuring a consumer report.
The Defendant allegedly included a liability waiver and a purported authorization for third parties to release information. In addition, they failed to include a summary of rights. We wrote a prior blog post about this FCRA required document previously
As reported on page 9 of the filing, 15 U.S.C. § 1681n(a) provides that civil liability under the FCRA consists of (1) a consumer's actual damages or statutory damages of "not less than $100 and not more than $1,000, (2) punitive damages, and (3) attorneys' fees. The Defendant has had well in excess of 5,000 employees, which were hired nationwide during the past five years. That could mean a potential of $5,000,000 in statutory damages under the FCRA. Why do Plaintiff Lawyers pursue FCRA?
We have written in previous blog posts about the importance of having documents that comply with the requirements of the Fair Credit Reporting Act . The Consumer Reporting Agency should make compliance with the FCRA easy. If you are experiencing frustration and want to avoid background check non-compliance, give us a call to discuss.
James P. Randisi, President of Randisi & Associates, Inc., has since 1999 been helping employers protect their clients, workforce and reputation through implementation of employment screening and drug testing programs. This post does not constitute legal advice. Randisi & Associates, Inc. is not a law firm. Always contact competent employment legal counsel. To learn more about avoiding background check non-compliance, Mr. Randisi can be contacted by phone at 410.494.0232 or Email: info@randisiandassociates.com or the website at randisiandassociates.com