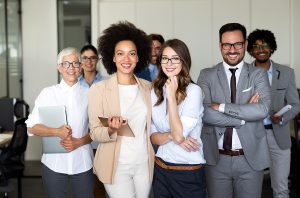 Do your employees recognize that customer service is a team sport? This article from Shep Hyken describes how a team working together can help your business thrive and succeed with happy and most importantly loyal customers. This is a summary. We encourage you to read the entire article.
The other day I was having breakfast with 11 of my friends. The server came over, introduced herself, and said, "I'll be taking care of you." She took our orders, and a few minutes later, a different server dropped off three of our meals. Then, two more servers brought a few more meals a moment later, and another server showed up just after that with the rest of our meals. It wasn't until after all the meals were served that our original server came over to ask if everything tasted great.
Was it this server's job to simply take our orders and let others do the work? No!
I observed all the people who brought us our meals. They also had other tables to attend to. And I noticed that our server was dropping food off at different tables.
I liked what I saw. The employees recognized that customer service is a team sport. It's everyone's job to make sure the customers leave happy.
Unfortunately, I've also witnessed the opposite at a restaurant. The food is set out on the counter, but the server responsible for it is busy taking care of another table. So, the food just sits there while other employees ignore it – because it's not for one of "their guests." Talk about a lack of team spirit!
The point is that everyone must take care of the customer, regardless of who the customer "belongs" to. If they see that something isn't right, they shouldn't just ignore it like the baggage handlers did.
Lately, I've resurrected a concept I used to cover in keynote speeches: every employee has at least two jobs. The first is to do the job they were hired to do. The second is to take care of the customer. When all employees understand that, the customer will most certainly have a better experience.
James P. Randisi, President of Randisi & Associates, Inc., has been helping employers protect their clients, workforce and reputation through implementation of employment screening and drug testing programs since 1999. This post does not constitute legal advice. Randisi & Associates, Inc. is not a law firm. Always contact competent employment legal counsel. Mr. Randisi can be contacted by phone at 410.494.0232 or Email: info@randisiandassociates.com or the website at randisiandassociates.com