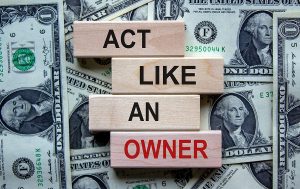 We saw this article from Shep Hyken about a company who told their employees to act like an owner. The article describes the success of both the company and the employee who took the instructions seriously and responsibly.
One of my favorite concepts to cover in my customer service keynote speeches is to act like an owner. I originally wrote about this in 2011 and shared the story of an 18-year-old server at a pizza restaurant who took so much pride in his work that the guests thought he owned the restaurant.
In preparing for an upcoming speech, I worked with Anthony Demangone, CMO of the National Association of Federally Insured Credit Unions. We discussed the ownership concept and how everyone can act like an owner or leader. Anyone can be "that person" everyone admires and wants to emulate. He shared the remarkable story of Richard Montañez, a janitor at a Frito-Lay plant in California. Here's the short version:
Act like an owner
One day Montañez heard Roger Enrico, the CEO of Frito-Lay, share an inspiring message: to "act like an owner." Montañez took this message to heart, and for almost 10 years, while still working at the plant, tried to learn everything he could about Frito-Lay. One day he asked a Frito-Lay salesperson if he could spend a day and learn about the sales process.
The salesperson took Montañez to a Latino neighborhood where he noticed something that would eventually change his life. As he helped restock the shelves, he noticed that the Lay's, Fritos and Ruffles were all plain – in other words, no spicy products. And right next to their display was a shelf of Mexican spices. Montañez wondered what Cheetos would taste like if dipped into chili powder and other spices, so he went home and made his own version of spicy Cheetos. He liked what he tasted and reached out to the Frito-Lay CEO to set up a meeting.
Somehow Montañez landed an appointment to meet with the CEO and other company executives. During the meeting, an executive asked, "How much market share do you think you can get?" Montañez nervously opened his arms wide and said, "This much!"
The Corporate Fairytale
The CEO smiled at Montañez and said, "Put the mop away. You're coming with us." The rest is a corporate fairytale come true. Montanez became an executive and worked his way up to VP of multicultural sales for PepsiCo America, the holding company for Frito-Lay.
I love this story for two reasons. First, it's about an employee who took initiative and thought beyond the role he was hired to do, which was to be a janitor. He took such pride in his work and loved his job so much that he was willing to step out of his comfort zone and reach out to the CEO of a major company with his idea. And second, just as impressive is that Roger Enrico, then-CEO of Frito-Lay, imparted the inspiring "act like an owner" message and was willing to meet with Montañez!
So, are you an employee who's willing to share your ideas with leadership? Or are you an executive who's willing to listen? Not every idea will have a Richard Montañez fairy-tale ending, but every idea has potential. So, I encourage you to adopt and embrace the "act like an owner" mindset inside your organization.
James P. Randisi, President of Randisi & Associates, Inc., has since 1999 been helping employers protect their clients, workforce and reputation through implementation of employment screening and drug testing programs. This post does not constitute legal advice. Randisi & Associates, Inc. is not a law firm. Always contact competent employment legal counsel. To learn more about the rights of employees who test positive for marijuana, Mr. Randisi can be contacted by phone at 410.494.0232 or Email: info@randisiandassociates.com or the website at randisiandassociates.com