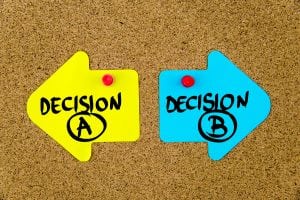 Let's assume you just received a drug test result that indicates a positive for one of the drug panels in your list. We get questions from clients all the time about how to handle someone who denies the accuracy of the drug test results. Let's start at the beginning.
You should be aware of your state's law regarding notification of the positive results to your donor and your Policy Manual requirements about notifications and action. BIG MISTAKE: Not having a drug testing section in your policy manual.
Allowing the donor to return to the collection center to do a re-test is not a valid course of action. This gives the donor time to flush a drug out of their system. And, yes we have heard of companies allowing this to happen. The specimen that tested positive must be re-tested at an appropriately certified laboratory.
You should be using a drug test system that has testing done at a laboratory with appropriate certifications. That means those instant drug tests are not going to be as effective as a drug test done at a properly certified laboratory. If you are using one of those instant drug tests, you should be aware of applicable law governing its use.
Maryland, for example, has very strict requirements for individuals interpreting the results of "preliminary screening devices" . These requirements include but are not limited to establishing a program to train individuals doing the collections, have the individual follow manufacturer instructions, receive appropriate certification and keep a record of such training and certification. Also, in Maryland, a specimen initially determined to be positive by using a preliminary screening device should be sent to a properly certified laboratory and review by an MRO. I have talked to many employers in the state of Maryland who use preliminary screening devices and do not comply with this requirement.
And while we are talking about instant drug testing products, you should be aware that they return many false negatives. This is because the ability of the instant drug test product to test for appropriate threshold levels is not as high as that found in a laboratory.
Next you should have a properly licensed Medical Review Officer (MRO) determine if the specimen sample is in fact positive. An MRO is a licensed physician trained in the practice of providing such opinions. There can be legitimate reasons for a particular substance to be in a specimen. The MRO will interview the donor before making the determination of a positive result. An MRO is a standard best practice and a suitable line of defense against alleged misinterpretations of results. In other words, would you want to be in front of a plaintiff attorney with results determined by your employee in the plant or by an MRO?
So, now the individual wants to challenge the results of the drug test. A couple of things come into play. The re-test cannot occur at the same laboratory that did the original analysis. That means a complicated process of transferring the original specimen to a different laboratory for re-testing.
This is where you should have statement in your policy manual of who is to pay for the re-test. Most times a company's policy manual does not mention this option. It is important that it does mention who pays and the amount. We would suggest at least three times the cost of a drug test. In every instance that we are aware of when the amount has been mentioned to the donor who wants to challenge does not follow through.