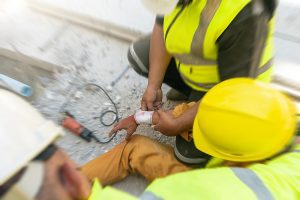 The primary goal of workplace drug testing is to deter and detect drug use at work.  Why is it better for employers to anchor their workplace drug testing policy on deterrence rather than impairment?
We recently read this column from Safety and Health Magazine that presents the argument that workplace drug testing is better than workplace deterrence. We have summarized the article's major points below. But encourage you to read the full article here.
For decades, employers have relied on workplace drug testing as a risk mitigation tool to effectively deter drug use and help prevent costly incidents. However, with cannabis legalization expanding, the connection between increasing cannabis availability and increased use of cannabis at work creates significant risks and costs for employers.
To address cannabis use, some legislators and organizations have introduced a series of laws and policies focused on identifying the signs of impairment. Unfortunately, by introducing impairment language, employers may be unable to create a workplace drug testing program that most effectively deters workplace cannabis use and mitigates risk.
The costs of drug use at work
Drug use in the workplace can decrease productivity and increase employee turnover, absenteeism, and injury costs. According to Injury Facts – an online source of preventable death and injury statistics compiled by the National Safety Council – the total cost of a workplace injury at a construction site when an employee tests positive for cannabis is nearly $80,000. OSHA says employers may save $4 to $6 for every $1 invested in a health and safety program. Workplace drug testing is part of this investment.
Anchoring drug testing policies on deterring use is shown to help employers proactively curb incidents and mitigate the costs associated with drug use at work.
The purpose of workplace drug testing
The primary goals of workplace drug testing are to deter employees who recently used drugs from coming to work and detect use that could be a safety risk.
The impairment challenges.
Discussions around impairment seem to be in constant debate. However, the focus on impairment can unintentionally limit the effectiveness of employers' drug testing programs. First, introducing impairment language shifts the focus from deterrence and tolerates drug use up to a certain amount. Second, impairment is difficult to determine because no agreed-upon standard exists.
So, why isn't it possible to determine impairment from cannabis yet?
"The main point many people fail to realize is that alcohol had decades of study to get to an impairment standard," workforce drug testing expert Barry Sample, of Quest Diagnostics, explains. "Study data and broad consensus are key pieces legislators have been missing as part of determining an impairment standard for cannabis."
Finally, employers may risk litigation from employees who claim bias because of the subjectivity of determining impairment without standards.
Tying it all together
Laws focused on impairment distract employers from optimizing their testing programs. Contrary to the assumption of these laws, workplace drug testing has never been a measure of impairment – it's a tool to deter use immediately before or during work hours. For an employer in the era of cannabis legalization, a test that measures only recent use, such as a breath test, will be a more objective measure to help enforce policies and optimize the original intent of drug testing – to deter and detect workday use.
[
R&A Comment
– A positive drug test result DOES NOT AUTOMATICALLY EQUAL impaired. A negative drug test result DOES NOT AUTOMATICALLY EQUAL not impaired. A positive drug test result DOES EQUAL under the influence.]
James P. Randisi, President of Randisi & Associates, Inc., has been helping employers protect their clients, workforce and reputation through implementation of employment screening and drug testing programs since 1999. This post does not constitute legal advice. Randisi & Associates, Inc. is not a law firm. Always contact competent employment legal counsel. To learn more about the rights of employees who test positive for marijuana, Mr. Randisi can be contacted by phone at 410.494.0232 or Email: info@randisiandassociates.com or the website at randisiandassociates.com