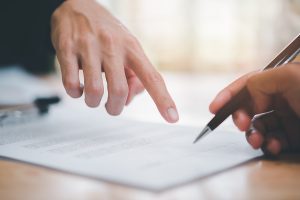 According to Top Class Actions, O'Reilly Auto Parts must pay $950,000 due to a major mistake involving background check release forms. The company failed to obtain valid these forms prior running background checks on applicants.
O'Reilly infringed upon the Fair Credit Reporting Act (FCRA) by including superfluous information on its background check disclosure forms. Prospective employees typically fill these out during the application process. Although O'Reilly hasn't admitted to the violation, they've agreed to settle the case for a hefty sum.
In a previous blog post, we explained why this topic is a potential jackpot for plaintiff lawyers. The net settlement after attorneys' fees and other costs is estimated to be around $495,000. Based on this net settlement fund and the projected class size, each class member is estimated to receive only $2.92.
From the Court Documents
This document consists of a disclosure form and an authorization form for the purposes of the FCRA. The Defendant's standard FCRA form is invalid on two separate grounds. First, it violates the "standalone" disclosure requirement in 15 U.S.C. § 1681b(b)(2)(A)(i). The FCRA disclosure must be "in a document that consists solely of the disclosure."
Second, the defendant's background check release form violates the "clear and conspicuous disclosure" requirement in 15 U.S.C. § 1681b(b)(2)(A)(i). This is because their FCRA disclosure combines both federal and state disclosures. Since the defendant's standard FCRA form is non-compliant, the plaintiff was confused regarding the nature of his rights under the FCRA. As a result, they chose not to give valid authorization for the defendant to procure a consumer report in violation of 15 U.S.C. § 1681b(b)(2)(A)(ii).
Does your organization's background check release form look anything like their form? If so, you should make some changes ASAP. No firm wants to deal with a lengthy, expensive, and damaging legal case. Fortunately, situations like this allow organizations to learn from others' mistakes and avoid similar problems in the future. Be proactive and examine your background check release forms carefully to ensure that they're compliant with the FCRA.
James P. Randisi, President of Randisi & Associates, Inc., has since 1999 been helping employers protect their clients, workforce and reputation through implementation of employment screening and drug testing programs. This post does not constitute legal advice. Randisi & Associates, Inc. is not a law firm. Always contact competent employment legal counsel. To learn more about background check release forms, Mr. Randisi can be contacted by phone at 410.494.0232 or Email: info@randisiandassociates.com or the website at randisiandassociates.com