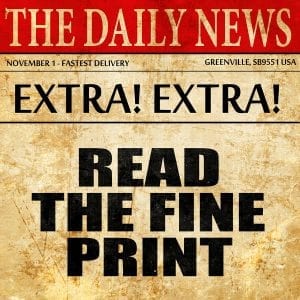 In the fast-paced news environment we all live in today, many of us unwittingly take the headlines of what we read as the content of the article or piece. However, it is important to go beyond the headlines. Many business owners panic when seeing the headline of a new piece of legislation but fail to read the actual law or consult with an experienced employment attorney. Always go beyond the headlines and read the article or consult with competent employment counsel.
Recently, I received an article in my inbox with an alarming title—"Colorado Ban the Box Law to Limit Job Applicant Criminal History Inquiries Takes Effect September 1." That headline alone is enough to send a business owner into a panic. However, once I looked into the law itself, things became much clearer.
The headline implies that employers will no longer be able to obtain job applicant criminal history inquiries. However, in reality the piece of legislation is prohibiting:
businesses with 11 or more employees from asking about criminal history at the first stage of the hiring process (application),
stating on the application that those with criminal history cannot apply,
advertising that someone with a criminal history cannot apply.
Despite the panic that you might feel upon reading the headline, the law is not changing whether or not employers can conduct background checks or access a potential employee's criminal history.
Beyond the three restrictions, above, the law places on employers advertising jobs, there are additional exemptions that make it even broader. A company does not need to follow the rules on advertising jobs and the initial application phase when:
The law does not allow a person with a specific criminal history to work in a certain job or field,
The employer is enrolled in a program designed to encourage the employment of people with criminal histories,
The employer is legally bound to conduct a criminal history check for the position.
When you see headlines like these that potentially affect your business, you should always go beyond the headlines and start by reading the text of the law and contacting your employment attorney. Our QuickApp that contains pertinent FCRA documents can help assure your firm does not run afoul of the law.
James P. Randisi, President of Randisi & Associates, Inc., has since 1999 been helping employers protect their clients, workforce and reputation through implementation of employment screening and drug testing programs. This post does not constitute legal advice. Randisi & Associates, Inc. is not a law firm. Always contact competent employment legal counsel. Mr. Randisi can be contacted by phone at 410.494.0232 or Email: info@randisiandassociates.com or the website at randisiandassociates.com