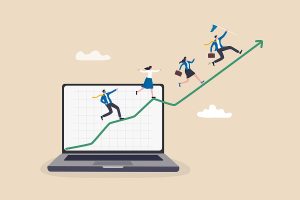 The business world is competitive, and companies must be productive to stay on top of the competition. One subtle way they can gain an edge is through their human resources (HR) department as listed in this article.
We have provided a summary of the article below. We encourage you to review the article in its entirety.
HR has several tools to boost productivity, whether it involves implementing effective training programs or introducing workplace drug testing kits for a safe and focused work environment. Here is a look at five other ways HR can increase business success.
HR teams are a hidden gem in any company. Here's how they contribute to business success.
Recruitment and onboarding
HR ensures the company hires skilled professionals who fit the company culture. They also ensure the candidate can sync well with the company and its goals. To help new employees transition into their roles smoothly, HR onboard them.
This will help new hires settle, boost their productivity, and improve employee retention.
Time management
HR intertwines training, technology and regular monitoring to help employees manage their time well. They implement programs that teach employees valuable skills, such as task prioritization and setting achievable goals. They also integrate software tools to help employees apply what they've learned in a real-world context. This application may help with organizing their tasks better, setting deadlines and monitoring their progress.
Another topic on which they educate employees is stress management. Overwhelmed employees will likely have a poorly managed schedule, which may lead to decreased productivity. HR can help employees balance their workload and relaxation time by offering flexible work arrangements, such as remote work options or flexible schedules, to help employees better manage their work-life balance.
Employee engagement
Engaged employees are emotionally invested in their organization's success, and a human resources department can implement initiatives to boost employee engagement. One good approach is offering development programs that provide training, workshops and career development opportunities that make employees feel valued.
They also achieve better engagement through recognition. This creates a sense of accomplishment and may motivate other employees.
Health, Safety, and Environment (HSE) programs
HSE programs minimize the risk of workplace accidents. One immediate impact of a robust HSE program is the reduction of downtime due to accident-related absences. HR puts safety protocols, such as proper machine handling and first aid training, in place to drastically lower the frequency of accidents. They can also focus on employees' long-term health through actions such as introducing ergonomic chairs to prevent issues like carpal tunnel syndrome and chronic back pain that can lead to long-term absenteeism.
Performance reviews
Performance reviews provide opportunities for employees to receive feedback and identify areas for improvement. The benefits of performance reviews are numerous. Above all, they assist employees in their professional growth and align their performance with organizational goals. One effective way to accomplish this is through 360-degree feedback, where HR gathers performance reviews from supervisors and colleagues. [R&A Comment – In a previous blog post  we note that Many employers conduct annual performance reviews with their employees.] Performance reviews provide an opportunity to formally evaluate an employee's performance based upon previously agreed upon objectives. However, supervisors should also provide performance feedback throughout the year through coaching and informal check-ins.
HR can make your business more productive
The HR department focuses on skills development, employee well-being, and alignment with organizational goals to lay the foundation for a more efficient, engaged and capable workforce.
James P. Randisi, President of Randisi & Associates, Inc., has been helping employers protect their clients, workforce and reputation through implementation of employment screening and drug testing programs since 1999. This post does not constitute legal advice. Randisi & Associates, Inc. is not a law firm. Always contact competent employment legal counsel. Mr. Randisi can be contacted by phone at 410.494.0232 or Email: info@randisiandassociates.com or the website at randisiandassociates.com