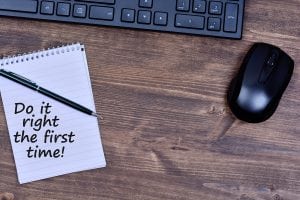 Here are some steps that will increase effectiveness of a drug free workplace program that we have seen and heard over the recent years.
HAVE A DRUG AND ALCOHOL WORKPLACE PROGRAM. First and most importantly an employer should have a drug and alcohol free workplace program. It is the only way to try to keep substance abusers out of your workplace. This is particularly true if employees are in safety sensitive positions. And, safety sensitive positions include much more than just operating a 26,000 pound truck. It should include employees who operate machinery and equipment and, yes, even drive an automobile on the roads for your firm. Ask yourself this question. Let's assume you just had an employee under the influence of drugs or alcohol kill two people in an automobile accident. The plaintiff attorney alleges you either knew or should have known the individual was a danger to society operating the equipment. Would you like to be in front of a plaintiff attorney and a jury trying to explain why you didn't bother to implement a drug and alcohol testing program? Or why you didn't continue to try to find substance abusers in your workforce through a random drug testing program?
INCLUDE BOTH PRE-EMPLOYMENT AND RANDOM An employer should have both a pre-employment and a random drug testing program. A pre-employment testing program helps to assure individuals on illegal drugs don't even bother applying to your firm. And random drug testing is often more effective at uncovering positive drug tests than pre-employment. Quest Diagnostics Annual Index shows that often the positive rate for random tests is 50% higher than for pre-employment drug tests. Not only does random drug testing results in higher positive rates, it sends  a very powerful message to the workforce that the firm is not going to tolerate the use of illegal substances.
DOCUMENT DISTRIBUTION AND RECEIPT OF YOUR POLICY Make sure that you have documented the receipt of the policy by your employees. You then essentially remove any excuse by an employee for not knowing the rules. And, have periodic training programs where employees are reminded of the importance of this program in keeping them, their fellow workers and the public free from potential injury through accidents.
BE AWARE OF APPLICABLE STATE AND FEDERAL LAWS States have different rules and regulations in the area of drug testing. In Maryland, for example, hair testing can only be used for pre-employment. Breath is not an acceptable specimen for alcohol testing in non-DOT situations. Point of contact drug tests must be administered by a properly trained individual and be registered with the State. States have different rules surrounding the use of oral fluid specimen for testing and on and on.
NOT HAVING A MEDICAL REVIEW OFFICER (MRO) An MRO is a licensed and qualified medical director with expertise in determining whether or not a non-negative result from the lab is in fact a positive. An MRO is a best business practice and the first line of defense if you, as an employer, are challenged for making an adverse employment decision. We have seen where some organizations just receive results from the laboratory and make a decision based on cut off levels. The role of the MRO is to determine if there is a legitimate reason why a specimen exceeds cut off levels for applicable drug panels.
USING DRUG TESTING TO SUBSTITUTE FOR MANAGING POOR PERFORMANCE Our blog has countless examples of companies who do not want to document the poor performance of an employee but rather hope that the poor performance is a result of a positive drug test. Many do not know that the MRO is required by law to report a negative when an individual has a legal prescription from a licensed physician for a legal drug. Then a client wants to know why the MRO reported a negative when they know the employee is on a drug. They should be managing the observed, documented poor performance. Along with this requires that an employer have job descriptions that link performance standards and the essential functions of the job. Then unacceptable behavior and performance can be clearly linked to the job's essential functions and requirements.
RANDOM TESTING IS NOT THE SAME AS REASONABLE SUSPICION. Often we talk to employers who say they have a random drug testing program by testing individuals when they do not "look or behave right"! That is not random drug testing. That is reasonable suspicion. The two are not the same. If you suspect an employee is under the influence of a substance, the individual should be confronted by TWO managers and presented with documented observations and then escorted to a collection center for the drug or alcohol test.
RANDOM DRUG TESTING MUST BE DEFENSIBLE. A random drug testing cannot be implemented by putting employee names in a hat and then selected. Your random drug testing program must be implemented by using a true random generator system that can be defended in court. There are random selection software programs available for purchase. Or we would be glad to help you randomly select individuals in our system.
AN IDEA FOR PRE-EMPLOYMENT SCREENING One employer makes the applicant pay for the drug test and then reimburses them if they pass. That keeps illegal drug users out.