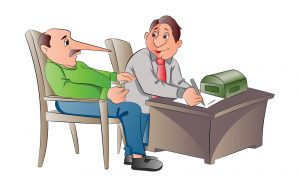 Perform employment screening to assure newly hired employees are an asset to a company. Recruiting and training new employees is a big investment for an organization. Having the right personnel in the right job can help a company be successful and profitable. The vetting process, done properly, is a most valuable endeavor.
Inspect What You Expect
Think about the process your organization performs when it is going to purchase a major piece of equipment or machinery. Painstaking research endeavors to assure that the particular asset will perform as expected. Often managers tell the human resources department to get someone into the position ASAP.  If the individual can fog a mirror, they should be hired. This usually ends in disaster. The individual is fired and then the process starts all over again. What a waste of valuable time and resources.
Verify that the applicant has the required work experience, education and appropriate licenses.
This involves performing prior employment and education verifications. Confirming the work history of the applicant is important.
Most prior employers are willing to confirm at least that a person worked there, the dates employed and the position. This information is crucial. The individual may have adjusted employment dates to hide incarceration time. Were they really a manager as they claimed? About 30% of the time we can talk to a supervisor to obtain additional information.  Verifying work history can also help you get more addresses to conduct criminal background checks and confirm past salaries. If the prior employer knew of behavior that resulted in an injury and didn't disclose it to you, you can use that omission in a tort of negligent referral.
Verifying an education degree is an important basic step that is often overlooked by organizations. Various studies indicate that the falsification of the existence of a degree occurs approximately 25% to 33% of the time. Verification of a degree is obviously very important if its achievement is a necessary requirement of qualifying for the position. BUT, we would like to suggest that this verification step be performed regularly as it can be a very important indicator of the quality and character of an individual. Accordingly, it can be ordered regularly if it is done consistently by job position.
To keep the workplace safe
You want to screen out individuals who have exhibited unacceptable past criminal behavior. Employers can be held liable for negligent hiring if they knew or should have known that an individual would engage in behavior that results in harm to a third party. The act of conducting a background investigation can provide some protection against this type of legal action if an injury occurs.
Protect your company's reputation
All your associates' work hard to maintain your organization's excellent reputation. Why omit crucial steps to assure that an individual will not destroy that excellent reputation.
Conduct drug testing to assure individuals are not "high" while operating machinery, equipment and vehicles on the road.
The good news is that employment drug testing can serve as a powerful risk mitigation tool that provides far-reaching organizational and societal benefits. In addition to promoting a safer, more productive workplace, it can help to decrease employee turnover and absenteeism, reduce employer risk, and lower workers' compensation incidence rates.