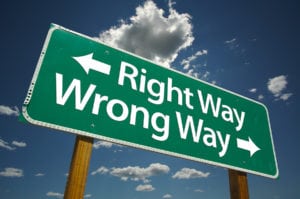 Just be honest with applicants. The Fair Credit Reporting Act (FCRA) states that when you use information in a background investigation that, in whole or in part, causes you to make an adverse employment decision you must follow the Pre-Adverse notification steps. You as the prospective employer are required to send a Pre-Adverse Action Letter and share the information you received from the consumer reporting agency with the applicant.
Why send the Pre-Adverse Action Letter? Consumer reporting agencies use three identifiers i.e. name, address and date of birth. The criminal justice system does not use social security numbers. So, in a country with over 250 million people, there is a slight possibility that the information in the report may apply to an individual that is not the applicant. The Pre-Adverse notification required by the FCRA gives the applicant an opportunity to let the consumer reporting agency know a mistake was made.
Just comply with the FCRA notices that requires you to provide any consumer a copy of their background investigation report. A consumer, i.e. the applicant, is entitled to a free copy of the background investigation report you received as part of the hiring process.
Just comply with applicable Ban the Box legislation.
It is crucial you have identified an internal resource that is familiar with these laws that affect the hiring process. This individual should be involved in at least every decision that rejects an applicant from the hiring process. Our blog post here describes how Freeman successfully defended themselves against lawsuits involving both the FCRA and the EEOC.
I know you must be thinking "easier said than done". That may be true. Your consumer reporting agency should have a system in place that allows easy compliance with the Disclosure and Authorization rules. And, they should have a system that allows easy compliance with the Pre-Adverse/Adverse Action steps.
What happens when you don't follow these rules? You end up in court owing multi-million dollar judgments.
NEW YORK, Aug. 7, 2017 /PRNewswire/ –   – Unlawful screening of job applicants seeking employment at the Barclays Center in Brooklyn violates federal and state law, according to a federal-court class action lawsuit filed by Outten & Golden LLP and the nonprofit organization Youth Represent.
Filed in federal court in the Eastern District of New York, the lawsuit alleges that Barclays used "flawed and discriminatory criminal history screening policies and practices" to deny employment opportunities to otherwise qualified job applicants. The defendants are Barclays Events Center, LLC, doing business as Barclays Center, Levy Restaurants, Inc., and Professional Sports Catering LLC.
The lawsuit alleges violations of federal and state laws regulating the use of criminal history screening policies and practices – and is a first of its kind class action suit to challenge an employer's violation of New York City's recently enacted "Ban the Box" legislation – the Fair Chance Act.
A Booneville, Indiana woman who was shocked to learn she would not be hired for a nursing job when an employment background check report revealed that she had "multiple felonies" – even though she insists she has "a squeaky clean criminal record" – has filed a class action lawsuit against her prospective employer that requested the background check, according to a story from The Indianapolis Star.