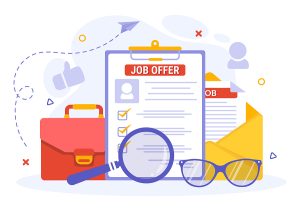 The hiring process is incredibly difficult, and nobody wants to find themselves rescinding a job offer to an otherwise-qualified candidate unless necessary.Employers today are feeling the squeeze of a competitive hiring market.  When possible, employers should consider performing a drug test and background check before extending a job offer. Before doing so, check with your legal counsel to ensure there are no potential issues.
Unfortunately, if you wait to perform a drug test and background check until after you've given a job offer, it can be a tough situation for both the candidate and your business. If you have narrowed the field down to two candidates, consider having both complete their background check and drug test. This can provide you with an easy way to choose between the two. This new article covers different reasons for rescinding a job offer and ways to ease the impact.
One of the most common reasons for rescinding a job offer is a failed drug test. Many employers can rescind conditional offers if a prospective hire fails a drug test. But be aware than many states and counties have additional steps the employer must take. Make sure that you understand your legal obligations before rescinding a job offer for a failed drug test.
Another common reason for rescinding a job offer is an issue with the background check. Particularly when operating in Maryland, you should take care when asking about a criminal record. As of February 29, 2020, Maryland is a "Ban the Box" state, which means that employers with 15 or more full-time employees cannot require applicants to disclose their criminal record or past criminal accusations prior to their first in-person interview unless the employer has been authorized to do so by state or federal law.
False or misleading statements are present in approximately 30-50% of applications. Falsifying a job application is a common reason for rescinding a job offer. Another common reason lies in the digital realm—red flags from social media or references. Always proceed with caution when making decisions based on posts on social media profiles. We have a blog post on social media screening here.
How can you potentially ease the impact of these common reasons for rescinding a job application?
Communicate clearly about the application and on-boarding processes so that prospective hires understand offers are contingent on other factors, like passing a drug test and a thorough background check.
Avoid any knee-jerk reactions to the information you find out. Remember that mistakes happen, and there might be a completely reasonable explanation for an inconsistency in their resume or a comment made by a reference.
Document your reasons for rescinding the offer.
Always have a backup plan and seek legal counsel before proceeding.
James P. Randisi, President of Randisi & Associates, Inc., has been helping employers protect their clients, workforce and reputation through implementation of employment screening and drug testing programs since 1999. This post does not constitute legal advice. Randisi & Associates, Inc. is not a law firm. Always contact competent employment legal counsel. To learn more about the rights of employees who test positive for marijuana, Mr. Randisi can be contacted by phone at 410.494.0232 or Email: info@randisiandassociates.com or the website at randisiandassociates.com