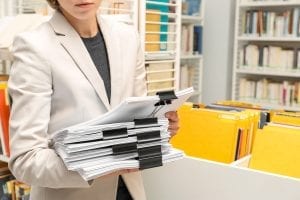 Civil records can contain valuable character information when evaluating applicants. But civil records also have drawbacks.
A civil case occurs when one party sues another. A criminal case is initiated by the District Attorney's office. Unlike a criminal case, a civil case is typically about money or other damages. A civil case usually involves one or more plaintiffs filing a complaint against one or more defendants.
A Civil Records Check may be considered beneficial by an employer who wishes to extend research from the criminal level to the civil level. Knowing whether a potential employee has been involved in civil case activity may provide a prospective employer valuable information about the applicant's character. Civil Records may provide the employer additional information to use in determining if an applicant is appropriate for the job and work environment.
One issue with using civil records, however, is determining the relevance to the job the individual is going to perform. Would a personal injury lawsuit have any relation to the job duties? How about a divorce? Is a divorce really job-related? Of course a civil case against someone for sexual harassment would be related.
Obtaining civil records is much more complicated than obtaining criminal records.
In criminal cases the action against the defendant is typically initiated by a District Attorney where the defendant lived or worked. Even if the crime occurred elsewhere than where the applicant lived or worked, there are efficacious multi-jurisdictional databases that may contain the criminal conviction. This makes identifying the applicable jurisdiction easier. And there is typically a date of birth or a driver license to make identification easier in a criminal conviction record. This makes a criminal conviction both relatively easy to find and then come to a conclusion if your applicant and the person with the conviction record is one and the same person.
Civil records usually have very few identifiers. Civil actions do not normally list a subject's date of birth or address in the court record.  And, unlike criminal conviction records, there is no multi-jurisdictional database of civil records. A civil suit could be filed where the applicant lived, worked, where a contract was formed or a contract was breached. Unless the county location is known before the search, even knowing where to look becomes complicated.
Typical information yielded includes case type, parties involved, case number, file and disposition dates, claim amount sought, disposition and awards. Usually there is a name match only. This results in a problem when researching common names. This makes it difficult to determine if the "Brian Smith" you are doing a search on is the same "Brian Smith" with a civil record. Most civil court records offer no details about the identity of the individuals involved.
Civil courts do not usually share records with other jurisdictions or private databases. And, courts do not report civil cases to a statewide system as are sometimes available for criminal conviction records. Therefore, each county must be individually searched to determine if a civil record history exists in that county.
Another issue is the significant difference between civil and criminal cases. In a criminal case a prosecutor must convince all jurors unanimously beyond a reasonable doubt the defendant is guilty. In a civil case, a plaintiff only needs to prove the case by a preponderance of the evidence.
Once a case has been identified, the case information must be properly compiled into a report for the employer. Individual county policies may affect this process. Some counties require the court clerks to do the research. Court researchers must leave names to be searched with the court clerks and then wait for the clerks to do the search on "their time". This adds to the turnaround time.
If a case file must be pulled, court researchers are at the mercy of the court clerk to pull the file in a timely manner. Patience is the key when doing proper County Civil Records Checks.