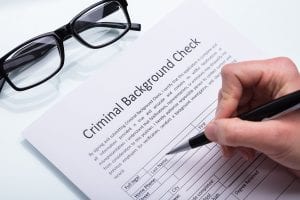 Using recidivism rates to make hiring decisions makes business sense to us. If a person with a criminal record has not exhibited unacceptable past behavior within a certain period of time, can you make a prediction of their future behavior? We believe that most people normally don't change their behavior. They will behave and perform for your firm as they have behaved in the past.
We want to highlight some information in a study  that corroborates that assumption. The report is a 2018 Update on Prisoner Recidivism: A 9-Year Follow-up Period (2005-2014). This study considers recidivism of criminals.
Some highlights from the report are as follows:
The 401,288 state prisoners released in 2005 had an estimated 1,994,000 arrests during the 9-year period, an average of 5 arrests per released prisoner.
This information can help in developing your background investigation policy when it comes to deciding the length of time that has elapsed since an individual's first conviction
Forty-four percent of prisoners released in 2005 were arrested during the first year following release.
Sixteen percent of released prisoners were arrested for the first time during the second year after release.
Eight percent were arrested for the first time during the third year.
Eleven percent were arrested for the first time during years 4 through 6.
Four percent were arrested for the first time during years 7 through 9.
Using this information, one could assume that if an individual has not been arrested for more than 6 years, the likelihood of not committing another infraction, i.e. an indication of unacceptable criminal behavior, is 21% ((100-79 (44+16+8+11))
An employer should check state rules regarding the use of arrest records consult EEOC regulations to properly consider. Many incorrectly assume arrest records should not be considered. But that is not true. They can be use, albeit used correctly.
Paragraph V.B.2 of Enforcement Guidance on the Consideration of Arrest and Conviction Records in Employment Decisions Under Title VII of the Civil Rights Act of 1964, as amended, 42 U.S.C. § 2000e et seq.
An arrest, however, may in some circumstances trigger an inquiry into whether the conduct underlying the arrest justifies an adverse employment action. Title VII calls for a fact based analysis to determine if an exclusionary policy or practice is job related and consistent with business necessity. Therefore, an exclusion based on an arrest, in itself, is not job related and consistent with business necessity.
Another reason for employers not to rely on arrest records is that they may not report the final disposition of the arrest (e.g., not prosecuted, convicted, or acquitted). As documented in Section III.A., supra, the DOJ/BJS reported that many arrest records in the FBI's III database and state criminal record repositories are not associated with final dispositions. Arrest records also may include inaccuracies or may continue to be reported even if expunged or sealed.105
Although an arrest record standing alone may not be used to deny an employment opportunity, an employer may make an employment decision based on the conduct underlying the arrest if the conduct makes the individual unfit for the position in question. The conduct, not the arrest, is relevant for employment purposes.