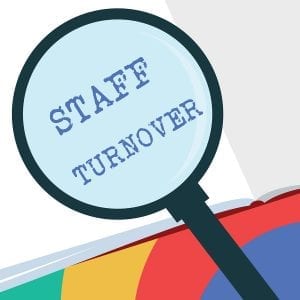 Job turnover is costly for employers, and aside from offering on-the-job training to develop employees, asking for enough job references is also key to reduce job turnover. While references might seem like the least important section of a job application, they are critical information for the potential employer.
A recent study released by Checkster , a human resources company, found that four references is the magic number to find the best employees that are least likely to be headed out the door soon after starting. Checkster's analysis found that the total number of job references who offered feedback upon being contacted was directly correlated to first-year job turnover. Employees with three or fewer references were more likely to leave or be a no-show. The difference between two and four references could be a reduction in turnover and no-shows of up to an amazing 80.
In a quote from the CEO of Checkster, "Research has shown that digital reference checking is one of the best selection processes, and checking four references ensures that candidates aren't cherry-picking the few references that will say good things about them."
What are the three commandments of job references for candidates applying for a job?
Never assume that someone you worked with previously will want to be a reference.
Choose your references wisely.
Always send your references copies of your resume for their suggestions and so that they can see the depth and breadth of your experience.
In addition to relying on job references to find quality candidates, we also suggest using job reference verification tools. The same tools that can be used to verify employment
can be utilized to verify references.
We can customize all screening questions to meet your needs and preferences while ensuring that everything abides by the Fair Credit Reporting Act (FCRA). We use a unique Hotline Verification process that eliminates phone-tag and streamlines the process of receiving and triaging job references. We will leave a message with the reference that leads to a number for your specific business. When the contact calls back to our 24/7 hotline, we will receive all necessary verification information and then convert it to a convenient MP3 file that you can utilize, if you wish. We will verify as much information as possible, including dates of employment, reason for leaving, salary and other relevant information.
James P. Randisi, President of Randisi & Associates, Inc., has since 1999 been helping employers protect their clients, workforce and reputation through implementation of employment screening and drug testing programs. This post does not constitute legal advice. Randisi & Associates, Inc. is not a law firm. Always contact competent employment legal counsel. Mr. Randisi can be contacted by phone at 410.494.0232 or Email: info@randisiandassociates.com or the website at randisiandassociates.com