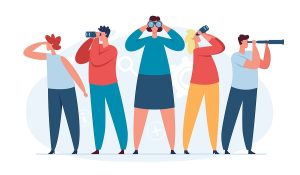 We read this article, in the Baltimore Business Journal, discussing Workforce Red Alerts related to hiring in the next few years. We felt compelled to bring this to your attention. A business cannot exist without employees. This article summarizes some of the article's highlights. We encourage you to read the article in detail. Despite assumed movements back to the workforce from people who were previously removed from employment due to COVID and a return of baby boomers, the labor market remains historically tight.
Despite recession worries and inflationary headwinds, 44% of all owners reported job openings they could not fill in the current period. They continue to ignore these workforce red alerts.
It's mostly about math, missed opportunities and misaligned policies, but regardless of the reasons, experts say businesses that fail to acknowledge and adapt to the changing times are jeopardizing their long-term prospects.
Federal Reserve Chairman Jerome Powell recently said there's a labor force shortfall of about 3.5 million, reflecting lower population growth as well as lower labor force participation.
"The data so far do not suggest that excess retirements are likely to unwind because of retirees returning to the labor force.
The size of Gen Z is about 3.6% smaller than the millennial generation in the nation's 100 largest metros — translating to gaps of at least 10,000 potential employees in 58 of those metros.
Between those demographic shifts and low net international migration, many businesses and industries are realizing there simply aren't enough people — or they aren't connecting with untapped talent in their backyards.
Businesses need to be preparing for a world with fewer potential employees, customers, and opportunities. They need to be able to pay even more for talent because there's less of it to go around — especially in highly skilled fields.
They need to be thinking five years ahead, as tempting as it may be to have a head-down focus on the challenges at hand.
But experts say that's exactly what businesses need to be doing if they want to position themselves for long-term success. It's going to be that hard-to-find talent in the years to come.
"What is shocking is how many companies are still waiting it out. That this is going to get better. No, it's not.
How can businesses address the issue?
Recruiters and workforce experts have a few ideas.
1) Rethink your hiring practices.
While demographic shifts are a big reason companies are seeing fewer candidates for their open roles, workplace practices are another.
Many companies still have arbitrary degree requirements or other artificial barriers to employment in place. Even those that have removed them often continue to hire from the same pools.
Changing those habits will open new sources of talent.
2) Develop a workforce plan.
The long-term workforce challenge is likely to expose businesses that lack infrastructure around their workforce pipelines.
This could include dedicated internship relationships with universities, partnerships with industry groups or other means of connecting with talent.
Experts say companies should be building out that infrastructure now, even if it won't start paying dividends until years later.
3) Be flexible.
The emergence of Gen Z is one of the most pivotal factors in the workforce, and it's one employers can't ignore. But Gen Z's small size makes it pivotal for employers to connect with these youngest members of the workforce. Some keys include embracing flexibility with workplace policies, being transparent on pay and being intentional on diversity, equity and inclusion.
James P. Randisi, President of Randisi & Associates, Inc., has since 1999 been helping employers protect their clients, workforce and reputation through implementation of employment screening and drug testing programs. This post does not constitute legal advice. Randisi & Associates, Inc. is not a law firm. Always contact competent employment legal counsel. To learn more about drug testing mistakes, Mr. Randisi can be contacted by phone at 410.494.0232 or Email: info@randisiandassociates.com or the website at randisiandassociates.com