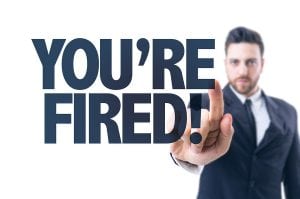 Terminating an employee can be fraught with difficulty and can result in lawsuits if not done properly.
Following is a summary of a 3-minute video that comes from the HR360 web site regarding guidelines when terminating and employee. If you would like access to this and more valuable information regarding workforce management, write an email to info@randisiandassociates.com with "Subscribe to HR360" in the subject line. We would be glad to provide a free one-year subscription to this valuable Human Resources web site.
The steps you take before termination can reduce difficulty and exposure to wrongful termination lawsuits.
Termination should not be a surprise to an employee. Termination should be the final step in a thorough process of company policy, performance evaluations and discipline. Many times employees have been caught off-guard by dismissals.
Documentation of events in the employee's job performance should be thorough, up to date and accurate in a well-planned termination protocol.
Factors to consider before termination:
·         Has the employee taken any leaves in the past year?
·         Has the employee filed any worker compensation claims?
·         Have they had a baby?
·         Is the employee over the age of 40?
·         Have they filed any complaints or are whistle-blowers?
If any of the above have occurred, termination may be construed to be an inappropriate retaliation or violation of a protected class of individual.
Actions to take:
·         Distribute a discipline policy
·         Treatment should be consistent
Disciplinary Procedures:
·         Inform employees promptly of infractions.
·         Establish a well-thought plan that allows the employee to improve.
·         Act immediately on allegations of harassment or other serious misconduct.
·         Promptly and fairly perform investigations of any alleged misconduct.
Executing the termination:
·         Complete the termination report
·         Draft the termination letter appropriate management and the assistance of qualified employment counsel.
·         Inform human resources and payroll
·         Inform administrators of benefit plans
Employee meeting:
·         Include supervisor and human resources representative
·         Discuss severance packages
·         Inform the employee of COBRA benefits and costs
·         Establish contact for other outstanding human resource issues
Closing:
·         Request return of company property
·         Comply with state final paycheck requirements
·         Conduct exit interview, if appropriate.
We make available to our clients and business associates a free one-year subscription to HR360. From Health Care Reform and COBRA to hiring and termination, HR360 provides the guidelines, tips and tools you need to stay compliant. HR360 includes interactive step-by-step tools for all your HR needs, ready-to-download forms and a customizable employee handbook, as well as federal and state labor law posters. Call 410.494.0232 or email us at info@randisiandassociates.com to get a free one-year subscription.