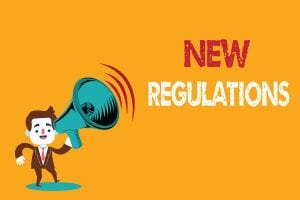 A new summary of rights form is in place effective September 12, 2018. The new form, issued by the Consumer Financial Protection Bureau, updates the model Fair Credit Reporting Act notice that should be given to a consumer concerning a summary of their rights when applying for a position with your organization as that application relates to their background investigation.  
The Interim Final Rule reads as follows: "Effective September 12, 2018, new section 605A(i) of the Fair Credit Reporting Act, added by the Economic Growth, Regulatory Relief, and Consumer Protection Act (the Act), requires that a new notice of rights be included whenever a consumer is required to receive a summary of rights required by FCRA section 609."
The new form replaces the old form effective September 12, 2018. Among other notices including an adequate Disclosure and Authorization and Pre-Adverse and Adverse Action letters, the Consumer Financial Protection Bureau is requiring an individual receive a notice of their rights under the Fair Credit Reporting Act. For more information, click the links below. Then click the link labeled "The revised Summary of Consumer Rights".
Bureau of Consumer Financial Protection Issues Updated Fair Credit Reporting Act Model Disclosures  
https://www.consumerfinance.gov/policy-compliance/rulemaking/final-rules/summaries-rights-under-fair-credit-reporting-act-regulation-v/
In addition to this Summary of Rights notice, the Fair Credit Reporting Act still has requirements that a Disclosure be given and an Authorization be obtained from an individual on whom an organization will be obtaining a background investigation report from a consumer reporting agency.
And, if an organization uses any information, in whole or in part, to make an adverse hiring decision it must issue a Pre-Adverse Action Notice and then, usually 5 business days later, an Adverse Action Notice along with a copy of their consumer report. The Pre-Adverse Action Notice gives the individual an opportunity to dispute the information in the background investigation report.
We discuss these issues at these previous blog posts:
https://www.preemploymentscreen.com/2-5-million-just-because-there-was-no-stand-alone-disclosure/
https://www.preemploymentscreen.com/dont-forget-the-pre-adverse-action-letter/
https://www.preemploymentscreen.com/dont-forget-the-pre-adverse-action-letter/
https://www.preemploymentscreen.com/?s=non-compliant