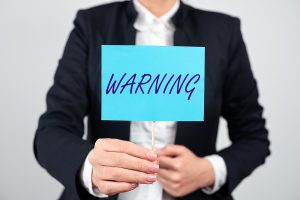 Beware of a negligent retention lawsuit if your organization either knows or should have known about the behavior of an employee that results in personal injury.
A recent disastrous event at a Walmart store  has resulted in a  survivor of the Virginia mass shooting filing a $50 million lawsuit against Walmart for negligent retention.
The $50 million lawsuit alleges that Walmart allegedly continued to employ the shooter — a store supervisor — "who had known propensities for violence, threats and strange behavior."
We have written before about the danger of negligent retention.  In this post we highlight that employers can be held liable for negligent retention when they knew or "should have known" if an employee has a reasonable propensity to injure members of the workforce or of the public.  Why? Because of the concept of respondeat superior. This means the injury would not have occurred had the employer not put the employee in a position of causing the injury. How does an employer defend themselves against this type of action? That's easy, employers need to institute programs that uncover a potentially dangerous individual and then take appropriate action, immediately. Notices of unacceptable behavior cannot be ignored by management.
The plaintiff's suit alleges that she has experienced post-traumatic stress disorder, including physical and emotional distress, from witnessing the rampage in the store's breakroom on Nov. 22. Additionally, "Bullets whizzed by Plaintiff face and left side, barely missing her," the lawsuit states. "She witnessed several of her coworkers being brutally murdered on either side of her."
Store supervisor Andre Bing, 31, fatally shot six employees and wounded several others before he died of an apparent self-inflicted gunshot, police said.
The lawsuit alleges that Bing "had a personal vendetta against several Walmart employees and kept a 'kill list' of potential targets prior to the shooting."
This is where the negligent retention comes into play. "Despite Mr. Bing's long-standing pattern of disturbing and threatening behavior, Walmart knew or should have known about Mr. Bing's disturbing and threatening behavior, but failed to terminate Mr. Bing, restrict his access to common areas, conduct a thorough background investigation, or subject him to a mental health examination," the lawsuit states.
James P. Randisi, President of Randisi & Associates, Inc., has since 1999 been helping employers protect their clients, workforce and reputation through implementation of employment screening and drug testing programs. This post does not constitute legal advice. Randisi & Associates, Inc. is not a law firm. Always contact competent employment legal counsel. To learn more, Mr. Randisi can be contacted by phone at 410.494.0232 or Email: info@randisiandassociates.com or the website at randisiandassociates.com