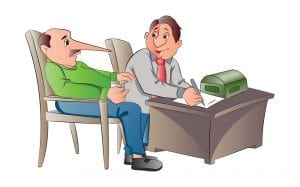 Falsifying information on your hiring application should result in immediate removal from the hiring process. Why? Individuals who lie to you and your organization on this most basic and important company document will most likely lie to you and your organization if you move forward with hiring them.
We have written a previous blog post about recidivism rates for people with criminal convictions. It shows that a large percentage of people who commit a crime will most likely continue that behavior.
We believe the same philosophy should apply to people who falsify your employment application.
What if your organization doesn't have an employment application? If it doesn't, and we see many organizations who don't, then you cannot take any action against them once caught in the lie. You won't be able to prove they falsified your company document even though they provided you with a resume. The resume was their document.
 Steven D. Levitt, coauthor of Freakonomics and a renowned economics professor at the University of Chicago, cites research suggesting that more than 50 percent of people lie on their resumes.
"Given such repercussions as Mary's fate, you might wonder why anyone would attempt to get away with lying on a resume in the first place. Levitt refers to a W.C. Fields quote in his explanation: "Anything worth winning is worth cheating for."
He states that power and misery foster the temptation to lie on applications.
In a kind of twist on the Peter Principle, which suggests that within corporate hierarchies, employees tend to be promoted until they reach their ultimate levels of incompetence, Levitt postulates that "the higher up in the organization a person rises, the more likely it is that he or she will cheat."
Common resume lies include falsifying academic credentials, padding dates to mask employment gaps, exaggerating job titles, embellishing job responsibilities and achievements, claiming sole responsibility for team efforts and even making up fictitious employers.
Levitt also found a correlation between mood and the temptation to cheat. The desperation felt when weeks of unemployment stretch into months, or the low morale experienced by someone employed but truly miserable in a job, appear to increase the incentive to lie."
However, a recent survey from CareerBuilder shows that 3 in 4 HR managers (75 percent) report having caught a lie on a resume, and only 12 percent of HR managers are more likely to consider calling a candidate that does something unusual or outrageous in for an interview. Among human resource managers, who are typically the gatekeepers of which applicants get in front of the actual hiring managers, 39 percent said they spend less than a minute initially looking at a resume. Nearly 1 in 5 (19 percent) spend less than 30 seconds.
What do we think you should do? The average bundle of verifying prior employment and education for a person is $50. Is it worth $50 to save the costs of further interviews and the cost of re-hiring someone to fill the position of someone you had to fire because of application falsifications? We think so. Tell us what you think?