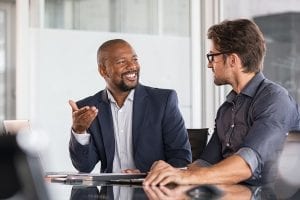 For the next few months we are going to highlight and summarize a fantastic book titled "Great Employees Only – How Gifted Bosses Hire and De-Hire Their Way to Success." I read this book some years ago and picked it back up to re-read and found the lessons as valuable and rewarding as when I first read it. What is most intriguing is how the author illustrates how an environment can be created that benefits the organization, the leaders, the retained employees and the de-hired employees.
We all want to be successful. That includes bosses AND their employees. The author studied hundreds of executives and found this formula for effortless leadership success:
90 percent hiring and de-hiring,
10 percent inspiring and,
0 percent management.
The above percentage breakdown is a formula for leadership success, not for a leader's time. This doesn't mean successful leaders devote no time to managing and spend nearly all their hours hiring and de-hiring. Rather, their success is derived from their hiring, de-hiring and inspiring while hours spent managing are essentially unnecessary.
A word about the phrase de-hiring. The author noted that some of the country's greatest managers have considerable turnover. This is because the gifted bosses were escorting less talented employees out with grace that the employees gladly moved on to a position better suited to their gifts. Everyone was better off. Employees being de-hired appreciated that they were in a position to find a position that was a better fit for them, for the previous employer and the prospective employer.
What is important to know is that the boss who de-hires has a talent pool from which to select fresh talent. Further they attract the best because they don't just offer jobs, but admission to "circles of helping" where colleagues inspire one another to grow. The author mentions that he does not believe in "Hire good people and get out of the way." When it is a great-employees-only environment, the boss is not there to answer questions, but to ask them. The gifted boss doesn't get out of the way, but is the keeper of the way, the one who sees what could be.
We hope you find the lessons in this book rewarding for yourself, the employees you hire and the employees de-hired.
James P. Randisi, President of Randisi & Associates, Inc., has since 1999 been helping employers protect their clients, workforce and reputation through implementation of employment screening and drug testing programs. This post does not constitute legal advice. Randisi & Associates, Inc. is not a law firm. Always contact competent employment legal counsel. Mr. Randisi can be contacted by phone at 410.494.0232 or Email: info@randisiandassociates.com or the website at randisiandassociates.com.