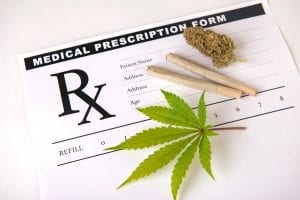 Medical marijuana and cannabis in the workplace continue to present employers with unique challenges, as things that are legal on a state level are not necessarily legal on a federal level or appropriate for different industries. A recent case that exemplifies this involves a worker suing Amazon for using medical marijuana and being fired and blacklisted as a result.
Last year, an ex-employee of Amazon filed a lawsuit saying that he was wrongfully terminated for having THC present in his drug test. After testing positive he requested a disability accommodation due to his anxiety disorder, which would allow him to use cannabis under state law. This case directly relates to cannabis in the workplace, as the employee was given a state-issued card granting him permission to use medical marijuana. He claimed he was never impaired on the job and never used the drug before going to work. The employee claimed that he tried to disclose his prescription medications before the random drug test was given, but the tester told him to do that later. Do your testing personnel understand how to navigate the pretesting process? If your HR and company personnel are unfamiliar with what to do in these situations, you are exposing your organization to litigation and its costs.
A month after the positive test, he was fired for testing positive for marijuana. When the worker presented his medical marijuana card, the company placed him on unpaid leave and required his doctor to complete a form. When the doctor completed the form, it didn't change anything. Ultimately, Amazon claimed he was fired because he did not disclose his use of cannabis in the workplace.
Now, what could Amazon have done? This article details some of the things that companies can do to address cannabis in the workplace. The worker in this case was working in a warehouse. If you can establish a clear link between the essential functions of warehouse work and the need for workers who do not use substances like medical marijuana, you could be able to take action against the employee. There are other things to consider when it comes to positions that are less safety-sensitive. In those cases, you should handle employees with medical marijuana cards the same as those who require accommodation through the Americans with Disabilities Act. Reasonable accommodations could look very different depending on what the employee's job is, but they are the law.
James P. Randisi, President of Randisi & Associates, Inc., has since 1999 been helping employers protect their clients, workforce and reputation through implementation of employment screening and drug testing programs. This post does not constitute legal advice. Randisi & Associates, Inc. is not a law firm. Always contact competent employment legal counsel. Mr. Randisi can be contacted by phone at 410.494.0232 or Email: info@randisiandassociates.com or the website at randisiandassociates.com.