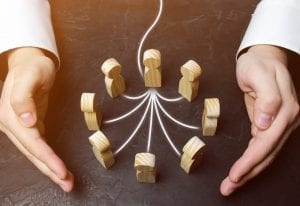 Are you protecting your workforce from people who have unacceptable past behavior?
Recently the Associated Press ran a story about a man who, police say, killed multiple people at a suburban Chicago manufacturing warehouse after he was fired, Friday, Feb. 15, 2019.
The article goes on to say "Like in many of the country's mass shootings, Friday's attack was carried out by a man with a violent criminal history who was armed with a gun he wasn't supposed to have." "The man, aged 45, had six arrests over the years in Aurora, for what police Chief Kristen Ziman described as "traffic and domestic battery-related issues" and for violating an order of protection. He also had a 1995 felony conviction for aggravated assault in Mississippi that should have prevented him from buying his gun."
While we don't know detail behind the six prior arrests for violent behavior, it is safe to assume that they occurred within the recent past i.e. after the 1995 felony conviction. We say this because the article does indicate the arrests occurred in Aurora Illinois, where the individual currently resided.
In a recent blog post, we highlight the correlation between unacceptable past behavior and the likelihood the individual will repeat the behavior. Some highlights from the report in our blog post are as follows:
The 401,288 state prisoners released in 2005 had an estimated 1,994,000 arrests during the 9-year period, an average of 5 arrests per released prisoner.
Forty-four percent of prisoners released in 2005 were arrested during the first year following release.
Sixteen percent of released prisoners were arrested for the first time during the second year after release.
Eight percent were arrested for the first time during the third year.
Eleven percent were arrested for the first time during years 4 through 6.
Four percent were arrested for the first time during years 7 through 9.
Regarding this individual in Aurora Illinois, think you, as the employer, couldn't have used the arrest records in making a hiring decision? Think again and check the EEOC regulations.
Many incorrectly assume arrest records should not be considered. But that is not true. They can be used, albeit used correctly. Paragraph V.B.2 of Enforcement Guidance on the Consideration of Arrest and Conviction Records in Employment Decisions Under Title VII of the Civil Rights Act of 1964, as amended, 42 U.S.C. § 2000e et seq. states:
An arrest, however, may in some circumstances trigger an inquiry into whether the conduct underlying the arrest justifies an adverse employment action. Title VII calls for a fact based analysis to determine if an exclusionary policy or practice is job related and consistent with business necessity. Therefore, an exclusion based on an arrest, in itself, is not job related and consistent with business necessity.
Although an arrest record standing alone may not be used to deny an employment opportunity, an employer may make an employment decision based on an evaluation of the conduct underlying the arrest if the conduct makes the individual unfit for the position in question. The conduct, not the arrest, is relevant for employment purposes.
It appears it would have been prudent for the employer to consider the fact that the individual in this situation had six prior arrests involving violent behavior. If the hiring decision would have been different, 5 people may still be alive today.
What would your firm had done with such information i.e. six prior arrests for violent behavior and a 25-year-old felony conviction?