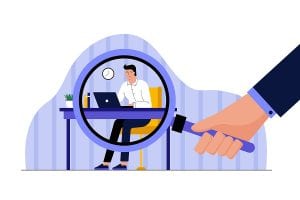 The topic of whether or not to monitor remote workers was discussed in a recent issue of HR Magazine In Two experts debate the issue.
People will typically behave for you in your employ as they have behaved in the past. You don't want them engaging in behavior that injures fellow associates, your clients, or other members of the public while in your employ. If their behavior does result in injury and you knew or should have known they might engage in this behavior, you are open to the tort of negligent hiring lawsuit. These types of lawsuits have an average payout of over $1 Million. Damage to a firm's reputation is the number one concern of business executives.
The article has a pro and con discussion on the question of whether or not to monitor remote workers. Baskaran Ambalavanan, SHRM-SCP takes the "yes" opinion. Kate Lister advocates for the "no" position.
Below is a summary of their comments. We suggest you take some time to read the article for more information.
YES – An employer should monitor remote workers

If you monitor remote workers you can increase productivity and improve data security.
The percentage of people working from home because of the coronavirus pandemic shot up to 62 percent. Companies have many legitimate, practical reasons for using software to monitor employees working at home. Those reasons include:
Tracking employee productivity. One of the most common reasons for monitoring employees working from home is to make sure they're working as hard as they would in the office where their managers can see them.
Monitoring software can track computer users' keystrokes, e-mail and file transfers. It also can record the applications employees use and how much time they spend on each task. Managers can even see periodic screenshots of what's on an employee's monitor and detect via GPS when a worker changes location.
Preventing data theft. For most organizations, their most critical assets are their data and that of their clients. Monitoring employees' computer usage can act as a deterrent to negligent or malicious users who might be tempted to transfer sensitive data.
Guarding company assets. Intellectual property or proprietary software, product information and other trade secrets also can be protected by electronic means. Software can alert employers to unauthorized data transfers.
Protecting employees. Monitoring employee e-mail and texts can help protect employees from sexual harassment and cyberbullying by providing proof of a worker's allegations in HR investigations. Software can detect risky keywords and alert security teams.
Rewarding employees. U.S. employees are working, on average, three hours more each day while working from home compared to before the pandemic, according to NordVPN. That hard work needs to be measured and acknowledged.
Employers have the legal right to monitor employees electronically on company-provided devices and across their networks as long as they have a legitimate business reason and obtain employees' consent.
With clear communication, employers can help workers understand how electronic monitoring benefits the business overall. Then employees can see themselves as partners working shoulder to shoulder with their employer to help the company achieve its goals. That benefits everyone.
NO – An employer should not monitor remote workers

If you do monitor remote workers you indicate a lack of trust and this leads to employee disengagement and other negative behaviors.
More than six decades of research has shown that people do their best when they're managed by results. So why do so many managers continue to micromanage where, when and how their people work?
The answer is a lack of trust
As in any relationship, when trust is lost, the outcome is never good. In a business, a lack of trust leads to disengagement, lower productivity, greater turnover, withholding information and other negative behaviors.
The great management thinkers of the 1950s—Abraham Maslow, Frederick Herzberg, Peter Drucker—and many since have proved that people do their best when they're ignited from within. The manager needs only to occasionally stoke the flame and keep it from setting off in the wrong direction, something that's easily accomplished with regular check-ins. No spying is necessary.
The problem with touting these systems as a productivity tool is twofold. First, if this were true, why does the manager receive the data rather than the employee? Second, we're not robots. We're not designed to be mental marathoners. We work best in sprints, and many of those so-called distractions are essential to our well-being.
If surveillance tools have any role in the organization, such as for ensuring data security or employee safety as they have been used in the past, they should be deployed in ways that are laser-focused on those purposes and available to a limited few.
The only way to know if employees are doing their jobs is to manage by results. Anything else is just baby-sitting, and the more you treat people like children, the more they will act the part.
James P. Randisi, President of Randisi & Associates, Inc., has since 1999 been helping employers protect their clients, workforce and reputation through implementation of employment screening and drug testing programs. This post does not constitute legal advice. Randisi & Associates, Inc. is not a law firm. Always contact competent employment legal counsel. Mr. Randisi can be contacted by phone at 410.494.0232 or Email: info@randisiandassociates.com or the website at randisiandassociates.com