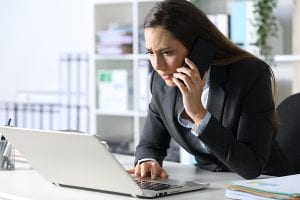 The primary risk concern of business executives is damage to their firm's reputation according to Julia Magas in in her recent article.
From the article "Being an entrepreneur can bring you into contact with a vast network of people, including clients, suppliers, employees, contractors, fellow CEOs and leaders, and more. Our relationships with these networks are often predicated on the basic principles of good old-fashioned trust. However, as a business grows, so does the network of people it interacts with. While it's wonderful to think that we can rely on our intuition to tell us something's off, that isn't always the case."
The primary risk concern becomes how to manage interactions with unscrupulous individuals. We think this is particularly true when it comes to hiring employees or contracting with outside vendors. We recently wrote a blog post highlighting the damage that can occur if a firm does not perform background investigations one employee.
And, we have also written several blog posts about what happens if a firm doesn't require background investigations on employees of the sub-contractor: Attack of Restaurant Owner  and Homeowner Bludgeoned to Death
The author mentions that managing risk is of paramount importance. We agree. But, there is more exposure than just damage to reputation. Other reasons to perform background investigations is to protect your workforce and members of the public from injury. We believe people tend to perform for a current employer as they have performed for previous employers. And, they tend to engage in behavior in the future similar to their behavior in the past. Thus the need to verify information on your employment applications and to investigate their past both before and during their employment with your firm. Another reason to perform background investigations and drug testing is to protect your firm against the tort of negligent hiring. This occurs when an employee injures someone and your firm knew or should have known this behavior could occur while in your employ.
The author summarizes " in terms of reputation management, forewarned is forearmed. Perhaps you'll make a conscious and informed decision to maintain a working relationship with someone who has a checkered past. But the opportunity to know about issues upfront gives you a chance to ensure you can protect your business reputation if that information ends up being used against your company.  Managing reputational risk is an important part of running any successful business, and knowing how and when to use the right kind of background checks can make all the difference."
James P. Randisi, President of Randisi & Associates, Inc., has since 1999 been helping employers protect their clients, workforce and reputation through implementation of employment screening and drug testing programs. This post does not constitute legal advice. Randisi & Associates, Inc. is not a law firm. Always contact competent employment legal counsel. Mr. Randisi can be contacted by phone at 410.494.0232 or Email: info@randisiandassociates.com or the website at www.randisiandassociates.com