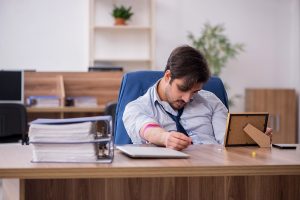 Employee drug use in your workplace can cause accidents, injuries to third parties, loss of your company's reputation, loss of revenue and even bankruptcy. It is crucial that you have an up-to-date policy that provides clear communication of the issue to employees and clear guidance steps for management.
Many times, we get questions about the format and contents of a drug test policy. We recently discovered this article that provides information on how to address drug use and list drug test policy contents. What follows is a summary of the article's contents. We strongly recommend you take the time to review the entire article.
Drug abuse can be a tricky subject to navigate in the workplace, and the way employers handle the topic can make the environment either better or worse. R&A comment – For example you shouldn't use drug tests to manage poor performance.
Employers should exercise caution when handling substance abuse cases and approach affected employees with evidence rather than speculation R&A comment – Know how to document suspicious behavior.
The first step is creating a substance abuse policy. Substance abuse policies are official company documents that outline how an organization will address issues related to drug and alcohol abuse, as well as prescribed medications, in the workplace.
A substance abuse policy can cover both drugs and alcohol, or you can create a separate alcohol policy and drug policy.
A well-rounded substance abuse policy has several components.
The introduction should define substance abuse to eliminate confusion and loopholes. Clarity is key. Additionally, the introduction should explain how substance abuse adversely affects employees, their work, the workplace, and the company. The introduction should also include a purpose statement that explains why the policy has been implemented and what the document covers.
The next section of the document should outline who the policy applies to (e.g., full-time employees, interns, only individuals in certain jobs, etc.), followed by the specific rules the employees must abide by. The goal is to make clear the expectations for how employees are expected to act and what they should or should not be doing regarding drugs, alcohol and medication when on the job.
In addition, there should be a section that discusses what types of drug testing might be required for employees and under what circumstances.
A company could require drug testing before making a hire, after reasonable suspicion, or following an accident that occurred at work. R&A comment – Additionally return to duty and follow up testing can also occur. The last essential section covers disciplinary action. The document should explain the consequences for any violation of the rules, including and up to termination. This section can also address what employees should do if they suspect an employee is violating one of the stipulations or if they witness a violation.
R&A comment – Additionally, your drug test policy should include a listing of the various types of specimens that can be used e.g. urine, oral fluid, hair, blood.
Companies may choose to include a compassion statement that promises less severe consequences if the offending employee agrees to cooperate.  R&A comment – If you have a zero tolerance policy consider our post on this topic.
Discuss your substance abuse policy during onboarding and beyond. Every new hire should be provided with a copy of the substance abuse policy to sign. Include the subject each year when your team tackles annual sexual harassment training and other legal matters.
Conversations about drug use should come from a place of compassion and respect. Do not stigmatize or belittle anyone affected by drug use.
Gather evidence before taking direct action. Never assume someone is guilty of using drugs in the workplace without gathering evidence. Formally document all observed employee behaviors and reasoning for ordering drug or alcohol testing. R&A comment – The interview should always be conducted by two supervisors. We previously presented a blog on documenting reasonable suspicion.
Enforce your drug test policy. A substance abuse policy doesn't do any good if you don't use it.
Observe employee behavior and remove them from safety-sensitive work, if necessary.
Understand the laws regarding substance abuse and protection. Each state has different substance abuse laws regarding work policies, testing and consequences. Employer substance abuse policies are also subject to the Americans with Disabilities Act (ADA) and Occupational Safety and Health Administration (OSHA) regulations.
Send employees for drug or alcohol testing when appropriate. R&A comment – if onsite testing is not available have a supervisor transport the individual to the collection center. Do not let them drive.
An employee who has an addiction is unlikely to completely cut off their drug use and switch behaviors after one conversation. The process may take some time, and express a genuine willingness to support them on their journey.
Any instance of suspected substance abuse should not be ignored in hopes that it will resolve on its own.
All information, including conversations with the employee and any test results, should be kept confidential.
Ensure the leaders responsible for enforcing your company's substance abuse policy don't use that power as a tool to hold over others or retaliate against specific employees.
Like your employee handbook and other essential HR documents, your substance abuse policy should be regularly audited and updated to account for workplace changes.
AND, always consult with competent legal counsel experienced in employee matters before any changes.
James P. Randisi, President of Randisi & Associates, Inc., has since 1999 been helping employers protect their clients, workforce and reputation through implementation of employment screening and drug testing programs. This post does not constitute legal advice. Randisi & Associates, Inc. is not a law firm. Always contact competent employment legal counsel. To learn more about the rights of employees who test positive for marijuana, Mr. Randisi can be contacted by phone at 410.494.0232 or Email: info@randisiandassociates.com or the website at randisiandassociates.com