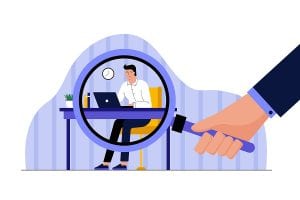 Why should you enforce background checks when hiring new employees? We recently came across a Forbes article  that takes a deep dive into the many reasons why doing so is highly advisable. Many leaders are under the impression that background checks are a simple procedure to confirm that potential new hires pose no physical threats to customers or coworkers. While that is true, the completion of background checks have more serious ramifications for your organization. Without thorough background checks, genuine disasters have the potential to plague businesses across every industry. Here are just a few real-world examples mentioned in the article.
Uber and Lyft. Unchecked ride-share drivers for both of these companies resulted in bans in multiple markets due to sexual assault concerns.
Yahoo! Scott Thompson, the former CEO, was released after just four months after lying about academic achievements on his resume.
These examples are centered around criminal background and academic background. While both are critical areas that should be explored, there is one area that the article fails to mention: prior employment verification. If a candidate can lie about their academic experience, they can just as easily lie about their work experience. As such, we believe it is important to verify that all applicants have the required work experience for a new job position.
Based on all these scenarios, we can conclude that insufficient background checks can lead to issues with a vast degree of severity including internal theft, physical harm, and bankruptcy. You could even find yourself in a costly and reputation damaging lawsuit for negligent hiring and retention.
After outlining these major risks, the article concludes with some key advice that we would like to repeat:
Contact an employment attorney if you have any questions about past convictions of potential hires.
Ensure you have a thorough yet legal background check process in place.
If you are unsure whether your background check process is legal or thorough enough, that's one of our areas of expertise! Randisi & Associates, Inc. can help you navigate requirements of the Fair Credit Reporting Act surrounding background investigations from a consumer reporting agency.
James P. Randisi, President of Randisi & Associates, Inc., has since 1999 been helping employers protect their clients, workforce and reputation through implementation of employment screening and drug testing programs. This post does not constitute legal advice. Randisi & Associates, Inc. is not a law firm. Always contact competent employment legal counsel. Mr. Randisi can be contacted by phone at 410.494.0232 or Email: info@randisiandassociates.com or the website at randisiandassociates.com.